Digital Textbooks Adapted for Readers with Learning Disabilities: A First Set of Accessible Books Just Released
Mobidys has partnered with French publishers Nathan and Bordas to adapt nineteen digital textbooks to the FROG format.
Textbooks remain essential instructional materials in elementary and secondary education, and they must be designed to make knowledge accessible to all students. Students who struggle to read—those with cognitive disabilities, such as dyslexia, or even students being taught in a language that is not their native tongue—may need specific modifications, which are difficult to make in standard print books. To meet this need, we have partnered with the French publishers Nathan and Bordas to make their digital textbooks accessible to students with special educational needs. In total, nineteen textbooks in the FROG format are now available online as of September 2022 on the platform Biblio Manuels. We aim to expand such inclusive publishing initiatives with other major textbook publishers in the coming years.
A FROG interface designed for textbooks
To meet the needs of students with language-based learning disabilities and other reading difficulties, we had to adapt the FROG toolbar used in literature books and tailor it to textbooks. With blocks of independent text and breakout boxes, textbooks have a more complex layout than other books. To avoid overloading the page, we selected the most relevant tools for high school students for our textbook interface.
To do this, we worked on a prototype with the publisher Hachette Éducation as part of the French Ministry of Education's Edu Up program. This project enabled us to define the following priorities for the FROG interface used in textbooks:
Reduce cognitive overload,

by removing all visual elements not necessary for comprehension and highlighting important elements.

Make it easier for readers to navigate the text and keep their place

via a reading ruler and a color inversion option.
The reading ruler in use
Break up the text into units of meaning by differentiating visually between word groups and lines using color combinations, a reading window option, and adjustable font size.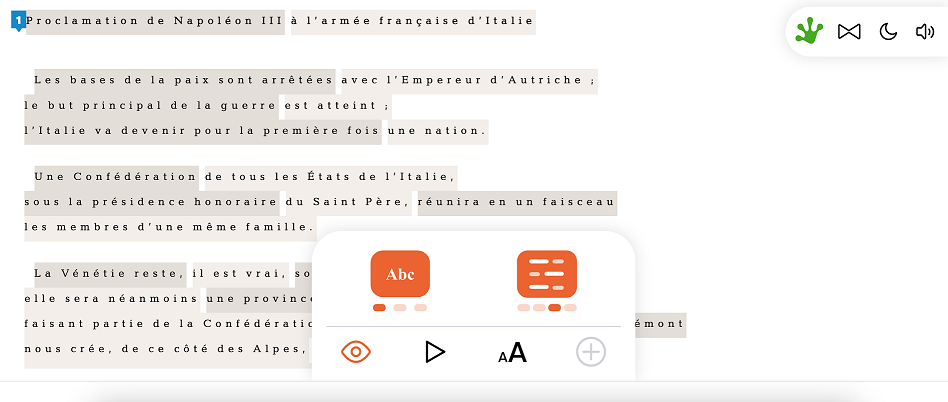 Alternating color combinations for word groups
Synchronize the text with a human voice recording, which can be listened to in continuous play or by clicking on segments. Students can listen to any unit of meaning and adjust the read-aloud speed. This feature is also of interest for foreign language learning.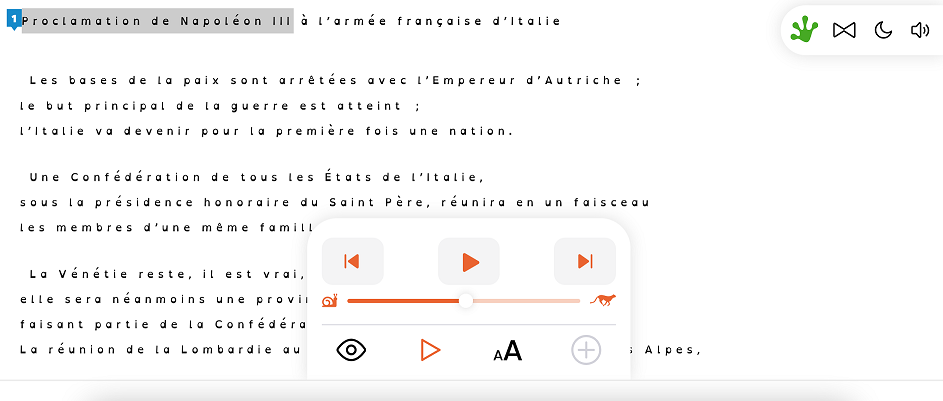 View of the read-aloud settings interface
For readers used to the FROG format, this new interface will seem like a natural and intuitive extension, and learning to use it will be quick and easy. The FROG toolbar in literature books has also been improved.
This accessibility overlay is available for existing digital textbooks via participating publishers' standard platforms, for all students subscribed to SONDO.
Nineteen digital textbooks adapted for readers with language-based learning disabilities available exclusively through Biblio Manuels
Biblio Manuels is the online library of all textbooks published by Bordas, Nathan, Retz, Le Robert, MDI, Clé International, and Syros for elementary, middle, and high schools. Available for the computer, tablet, and smartphone, the platform offers many educational resources for teachers and students.
For our first batch of digital textbooks in the FROG format, we worked with the publishers Nathan and Bordas to adapt nineteen high school-level texts. We selected the books in consultation with high schools in the Île-de-France region as part of the Lycées'Up Ressources project, which issued a call for proposals to expand the schools' digital resources. The SONDO solution was chosen, giving Île-de-France high schools the option to select SONDO in their resource catalogs starting on August 29, 2022
Based on the list of digital textbooks used by teachers and students in these schools, we adapted the following nineteen humanities textbooks—used in the standard three-year French high school program—to the FROG format :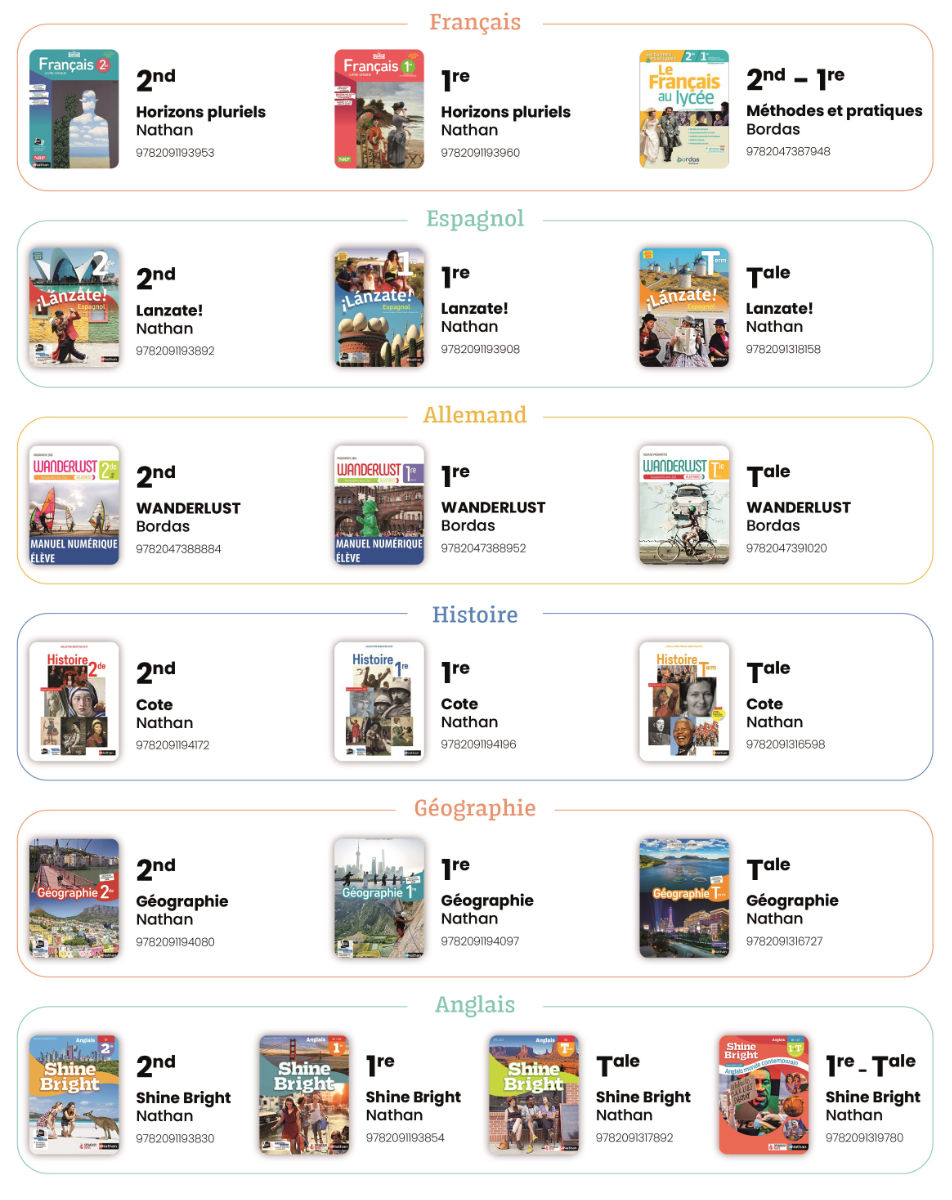 Nathan and Bordas textbooks available in the FROG format
Given the complex layout of Nathan and Bordas textbooks, we had to innovate in our design process and modify our interface. It took ten months, in which we tapped into all our areas of our expertise, to adapt these nineteen textbooks to the FROG format.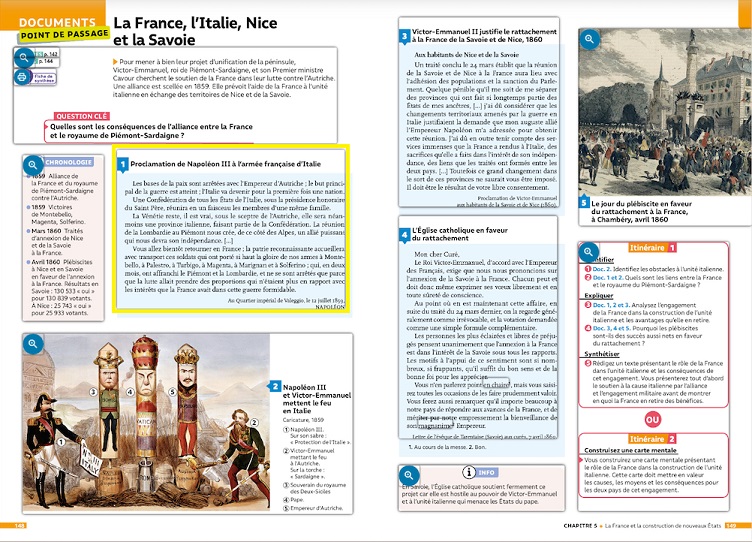 View of a double page from a Nathan French textbook on Biblio Manuels with individually clickable text and image blocks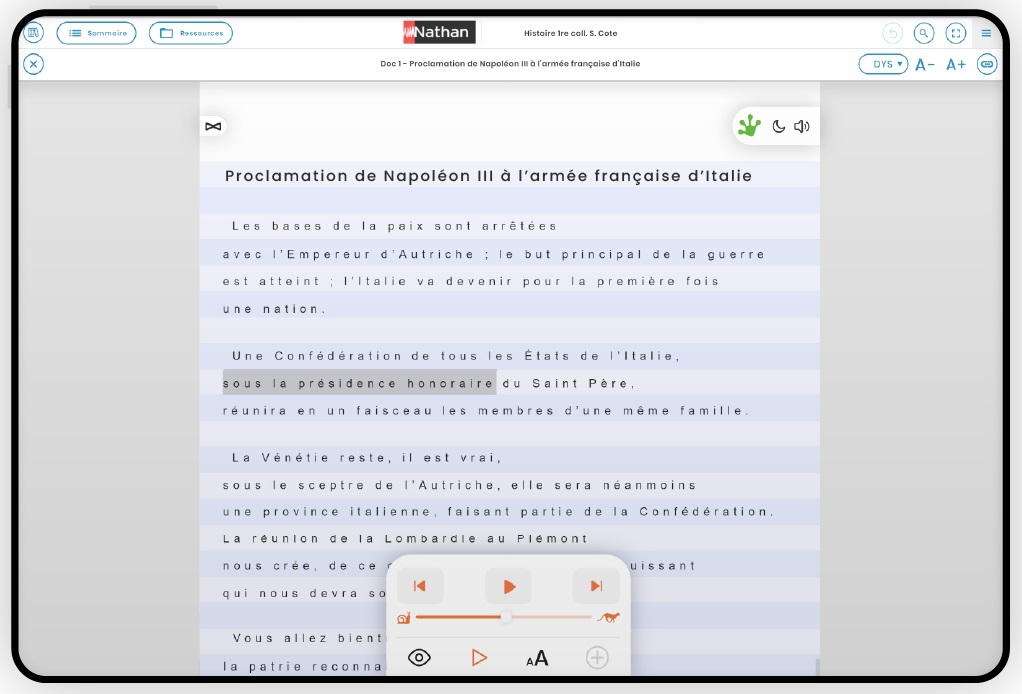 View of a text block from a Nathan French textbook in the FROG format
An innovative response to meet the needs of high school students with language disorders or other reading difficulties
In recent years, digital technology use has increased significantly in schools. The latest reports show that 100% of French high schools are now equipped with a virtual learning environment (VLE) and that VLEs are well established. The use of digital textbooks, such as those offered by the Biblio Manuels platform, is also increasingly common. These schools thus offer a particularly suitable setting for introducing the first accessible digital textbooks.
Providing high school students who have language disorders or other reading difficulties with schoolbooks adapted to their needs is key in helping them achieve academic success and equal opportunity (according to a 2017 INSEE study, conducted on 738,000 seventeen-year-olds who participated in Defense and Citizenship Day in France, 8.6% struggled to read, and 3.5% had severe reading difficulties).
While in recent years, significant effort has gone into making reading more accessible in primary schools, it is now essential to pursue this work in secondary education so that students who wish to continue their studies are able to do so, particularly in the general fields.
This entails offering accessible educational materials at all grade levels and in all subject areas. With this first set of digital textbooks adapted for students with reading difficulties, we hope to provide the beginnings of an answer to a problem that has been overlooked for too long and support these students at every stage of their journey.
DID YOU KNOW ?
High schools in the regions of Provence-Alpes-Côte d'Azur, Nouvelle-Aquitaine, Grand Est, and Île-de-France can enjoy access to SONDO and to the Frog accessibility overlay in Nathan and Bordas textbooks thanks to regional government funding.